Quantum computing for the Space Sector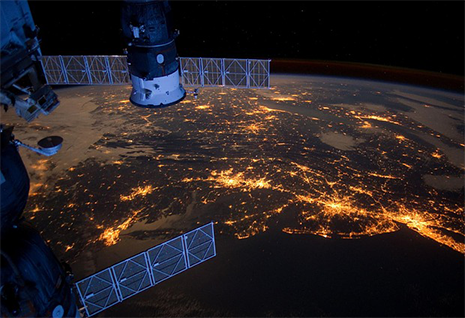 Behind all the exciting space missions we have witnessed recently, there is a whole multi-faceted global space industry sector, covering space manufacturing (launch vehicles, spacecraft, scientific instruments, components), space operations (ground infrastructure, launch services), space applications ( use of data in services and functions such as communications, metrology), not to mention the specialised support and ancillary services that are also required.
With the commercial space market growing rapidly and new players entering the space industry there are lots of opportunities and also challenges.
From talking to leading experts in the space industry, we have learnt about the risks and challenges,  for example:
space debris and space traffic management: can we build better tools for analysing potential collisions, how can we manage the constellation of satellites that are now orbiting our planet?
future materials:  what materials can withstand extreme conditions as we explore the furthest planets to Earth, how can we accelerate the discovery of new materials?
global communications:  as our communications continue to grow, so will our need for more satellites: how can we optimise and schedule satellite activities and plan missions?
These are the sorts of issues that provide challenges to the space sector as a whole, now and for future developments across the industry. There is also an awareness that there are limits on the capacity of current computers, even supercomputers, to solve many of the challenges the space industry is facing.
How can quantum computers help? We have been working with the Satellite Applications Catapult to bring together experts from quantum computing and the space sector to discuss this.  At our discovery workshop in November 2018 we looked at how quantum computing could help in areas such as simulation and modelling, optimisation and processing earth observation data and we brainstormed use cases in these areas to test further.
To that end, on 15 March, NQIT and the Satellite Applications Catapult held a quantum computing hackathon for the space sector in Oxford. Having catalogued how quantum computers could be used to address space sector challenges at the November workshop, the hackathon offered participants the opportunity to delve further into one of these challenges and apply their coding skills to propose solutions, as a member of one of the hackathon teams.

Riverlane and dividiti, our hackathon partners, brought their considerable experience in running quantum computing hackathons, to make the hackathon a must for those interested in developing their knowledge, to learn to program a quantum machine in order to solve a quantum machine learning problem related to classification. Machine learning is used to find patterns in data, and it is thought that quantum machine learning methods could extend the regime of recognisable patterns that would have applications within the space industry.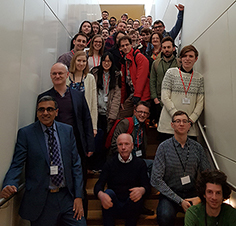 Participants used Qiskit, IBM's quantum computing framework, along with their emulator of a quantum computer to tackle the challenges presented to the hackathon teams. The hackathon gave programmers and space experts the opportunity to 'dip their toes in the water' and it is hoped that further quantum hackathons will grow the skills and knowledge of how quantum computers can be programmed and used to address real problems.
Our hackathon proved that you can programme a quantum computer - Rupesh Srivastava, NQIT
At the Oxford Innovation Society's March meeting, co-hosted by the European Space Agency and Satellite Applications Catapult, we were able to report on the success of the hackathon and the feedback we received on the benefits of engaging with the potential of quantum computing at an early stage.
As NQIT, we will continue to work with industry, both at sector and company level, on preparing for the new paradigm in computing represented by quantum computers and creating a quantum computing sector in the UK.